Thanks for stopping by if you saw my segment on Summer Science Fun this morning on WGN Morning News (and even if you didn't). There's so much talk of "the summer slide," that is children's math, literacy and science skills slipping during the during this time of year, but I think these skills can soar during the summer if you make it fun. I was thrilled to share a few items that can help.
Please note that with the exception of the Drawdio, these items were provided by their manufacturer or PR representatives.
Summer Science Fun
Snap Circuits
The Snap Circuit 300 ($64.95) set includes everything you need to complete 300 different experiments with electricity. You, I mean your child, heh, can make things buzz, spin and light up as he explores the basic elements of a circuit.
Keep reading!
All parts are mounted on plastic modules and snap together with ease.
Once the basics are mastered, this set can be used to build an AM radio, lie detector, and even a burglar alarm. The accompanying booklet, complete with diagrams makes these experiments a snap (no pun intended), especially for a child that easily follows diagrams on Legos and K'Nex. The kit is labeled for ages 8 and up, but with adult supervision younger children can enjoy this too.
image via www.SnapCircuits.net
Drawdio

(Theremin a go-go)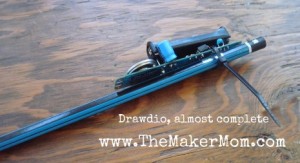 We bought our Drawdio DIY kit from Adafruit. ($17.95) Born from the creative minds of Jay Silver (who was recently featured in a recent episode of When Geeks Grow Up) and his colleagues, the Drawdio lets you play with a low voltage current in ways you never imagined.
Imagine you can play with your food so that it makes music, or draw an instrument on paper and play that image by tapping your finger on it. The Drawdio lets you do this. It offers a new way to experience the world and uncover hidden electrical conductors.
Science Wiz Light Experiment Kit

from Radio Shack
Image courtesy Radio Shack
Science Whiz Light Experiment Kit ($19.99) is an award winning kit that includes a 40-page instruction book and materials for 25 experiments (some of which need to be supplemented. Split light into rainbows, make a kaleidoscope, mold lenses, make a microscope and telescope, diffract with feathers, and more. Recommended for children 6 and up.
School's Out Special Issue of Make Magazine
The School's Out issue of Make Magazine ($9.99 print issue, $7.99 ebook) is chock full of summer project ideas for a range of experience levels. For example, the more 50+ projects include everything from constructing a backyard zipline to making  chocolate-covered bananas. This special issue comes with a pair of 3D glasses to view the 3D photographs throughout the magazine. The section featuring teen makers is sure to inspire your child to get busy.
Marshmallow Shooter from Make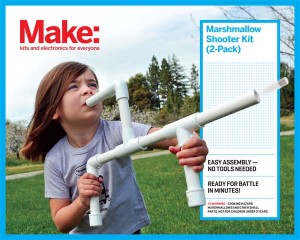 courtesy of Make
This marshmallow shooter kit ($19.99) is available from Make. The kit contains parts for two shooters (or one crazy tripped out shooter). They are easily assembled without tools and because the parts don't need to be glued, they can be reassembled as your little maker experiments with forms and sizes. Mini-marshmallows not included.
I'll tell you more about MakerCamp later this week.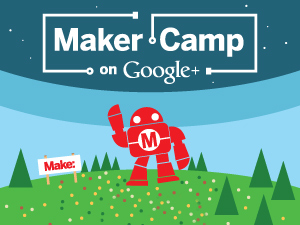 And save the date for the Evanston Maker Faire in Evanston on August 4 and 5. I hope to see you there! I'll share the details soon.
Let me know your favorite summer science fun activities in the comments!
Like The Maker Mom on Facebook. Follow us on Pinterest. Watch our videos on YouTube.