Look for Kim Moldofsky, The Maker Mom, on WGN Morning News, this Friday, November 24 around 9:30 Central as she shows off a few of this year's top science, engineering, and tech gifts for kids. If you stopped by this site as a result of that segment, welcome! This post contains affiliate links. Your purchase through these links helps support this site.
We have an established track record when it comes to spotting exciting new science and technology toys and games that help kids learn kids. Because we find a lot of companies when they're starting out, this year we're including updates on some of our past top gift picks.
We'll be updating this guide through early December, so check back soon for our newest finds and reviews. Click for great new STEM books and unique STEM-themed finds on Etsy (wonderful teacher and coach gifts), and clothes.
Best STEM Gifts for Kids
New Tech Toys for 2017
KANO Teaches Coding
We're impressed with the new tech toys from Kano. From unboxing to plugging in and playing, Kano offers a top-notch experience. Their colorful graphic-intensive instructions and a plethora of interactive online tutorials make it easier than ever for kids (and adults) to start coding and customizing games and artwork. We're big fans of their Pixel Kit (reviewed here)($80 (Important update via a Maker Mom Facebook fan on 11/21. Some issues have been pointed out in the Amazon reviews. Namely, that my review product is superior to their current consumer model and the unit's limited wifi capabilities. Read the reviews over there before making your purchase decision.).  Kano's Motion Sensor Kit, priced at under $30,  is an especially fun and affordable way for kids ages 6 and up to get started coding. Kids can make motion-controlled apps, games, and music that they control by holding their hand over a special infrared sensor.
Both the Pixel Kit and Motion Sensor work with any Mac, pc, (including Chromebooks) and Linux computer, or the Kano computer kit. Speaking of the Kano Computer Kit, their PR person strung me along but never sent me anything and then they ran out of review samples, so I can't vouch for it (and yes, the lack of professionalism from their outside PR firm annoys me), but so far I'm impressed enough by the brand to say the computer kit is likely worth a look.
LEGO Tape Means a New Way to Build with LEGOs
Okay, make that LEGO-compatible tape so we don't get sued. You can make any surface LEGO-friendly with this cool tape! There are now several brands that sell silicone rolls with an adhesive surface on one side and studs (the bumps that you click the bricks into) on the other. The folks at Zuru/Mayka sent me a few samples and it's cool, but a bit hard to peel the adhesive. Based on Amazon reviews, the Artistore brand might be easier to use (and more affordable).
Circuit Cubes Help Kids Learn Electronics
Circuit Cubes is (are?) another product that will extend the use of the gazillions of little bricks you already own. Think littleBits meets LEGO with their motorized construction kits. Each one comes with a motor cube as well as a battery, and an LED Cube, in addition to related project supplies. We tried out the Wacky Wheels Kit. It was fun and easy to get going, but the price point is a bit high. Consider your gift recipient's age, skills, and motivation to decide whether Circuit Cubes or a littleBits kit that is pricier but might have more long-term value, would be best.
Piper DIY Computer Kit = Coding and Electronics Fun
The Piper Computer Kit is no substitute for a high-functioning laptop, but the Raspberry Pi-based system is cool for young makers who want to code and learn about electronics. Designed for kids ages 7-12, the first task is to build the cabinet that houses the system (a fun parent-child project). Next, a Minecraft-like story/game leads kids through the process of building circuits to set up controls to move their player. After that, your child can play and create games. At $299, it's a commitment, so again, understand that this is not a laptop replacement. Buy through the Piper site or Amazon.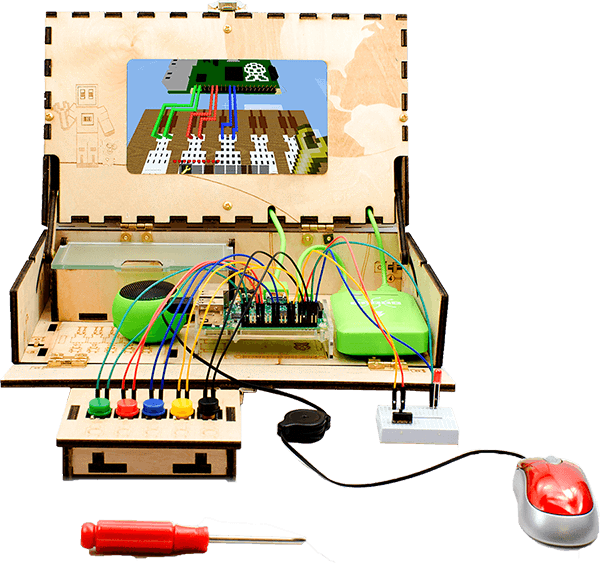 MakExchange Arduino Inventor Kit Means Portable Fun with Electronics
Developed in Chicago at the mHUB product innovation space, the MakExchange Kit teaches electronics and coding. We love the user-friendly design of their easy-to-store kit. See our interview with their founder, Joe Greer here. Their kit is designed to be user-friendly and easy to store. They have a great Arduino programmable paper-airplane launcher that's an exciting add-on to the kit.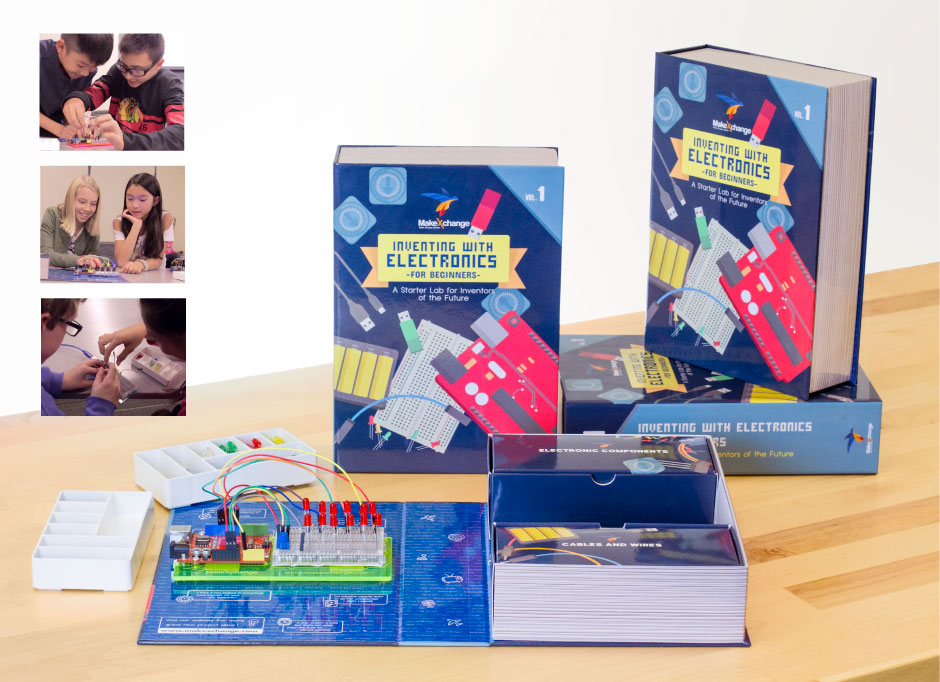 More Gifts for Tweens and Teens to Help Kids Learn Electronics and Coding
Chibitronics (Updated)
I first wrote about these handy solderless kits to learn about circuits and electronics in 2014. "The Circuit Stickers Starter Kit
($30) comes with everything you need to get going, including a handy, dandy sketchbook that provides an educational overview and instructions. It also serves as the workspace for building the circuits. In addition, it includes copper tape, button cell batteries, and the namesake circuit stickers, tiny stickers with embedded circuits and surprisingly bright LEDs in three colors, as well as a few other goodies." Read the full review here.
New in 2017: The Chibi Chip lets you program your designs. Check out all of Chibitronics' latest offerings here.
Speaking of Arduino Kits, littleBits, the adorable magnetic electronics bits we've been loving on since they first debuted a few years ago, continues to expand their line in innovative ways. New for 2017: an Arduino Kit (just under $80) that comes with a couple of games to get you started, and the very shiny Droid Inventor Kit (just under $100)  for the Star Wars fan(s) in your life, like Rule Your Room Kit, are geared toward kids, but others are designed for inventors (who, admittedly, may be kids).
Osmo (Updated)
Osmo seamlessly blends iPad technology with real-world interaction for kids ages 5-12. Is it educational technology or just fun? You decide. Every visitor who's tried this at my house has been amazed at Osmo's reflective technology. Watch it in action with my video overview.  Get started with their Genius Kit and try their new add-ons, like Coding Jam.
The Ozobot Bit is the smallest and most affordable of the bunch at only about $60 per palm-sized robot. You can play with the Ozobot Bit through tablet-based apps (iOS and Android), draw coded paths for the robot to follow, and even code its actions with OzoBlockly, a drag and drop programming language. The brand has added new bundling options and cute extensions like this construction kit.
I feel nostalgic about this product because I remember the early prototypes of their initial crowdfunding campaign. Roominate was invented by women with an eye toward a girl-friendly engineering product. Kids get to build things and dabble in electrical engineering by adding easy-to-use circuits to make things light up and move. Although designed with girls in mind, boys like it, too. The company grew, made it onto Shark Tank, and was eventually acquired by Playmonster.
 (Updated)
Sphero is another good starter robot. They've expanded the line this year with a Sphero Mini (caution: mixed reviews on this little cutie) several branded bots, like Spider Man and Droid Trainers, BB-8, BB-9, and R2-D2.
Snap Circuits kits are the classic way to introduce kids to the basics of electronics and they continue to be a hit with our readers and their kids ages 6-10. Get started with the Junior Kit. and graduate up to something more complex, like the light kit. 
One kit (maybe two) is likely enough for one house. If your child takes to these, at some point you can simply onto more other types of electronics systems. (That said, you can check YouTube for ideas on how to work beyond the snap board.) Older kids can try their hand at soldering with items like Elenco's DIY FM radio kits ($40 and under).
You can't go wrong with a ThinkFun game! They offer loads of options, many in the $15-30 range, for brain-bending logic games and puzzles. Gravity Maze was a hit in The Maker House. Their newest games include Roller Coaster and Rover Control.
We wrote about the kid-friendly robots, Dash and Dot shortly after they first debuted. The line has expanded with the new Cue bot that features an "emotive artificial intelligence" and even greater interactivity. Wonder Workshop also offers new expansion packs, like the Dot Creativity Kit and a launcher for Dash.
Yellow Scope Science Kits (Updated)
The science kit designed with girls in mind that's fun for all kids, YellowScope, now has two kits in their line: Foundations of Chemistry and Acids, Bases, and pH. (Both Maker Mom tested and approved.)
Books and Magazines about Science and Technology (Updated)
We recently wrote about several promising new titles written with girls in mind. And check out last year's picks, The Maker Mom's Guide to STEM and Maker Books for Kids (and Parents).
Science-themed Clothes and Accessories
Whether it's a dress patterned with your favorite molecules or gender-neutral t-shirts for your kids, Svaha encourages everyone to wear their smart on their sleeves. We've recently become affiliates of this brand we've long admired.
Gifts for Science Teachers and Coaches
Don't miss this roundup of our favorite Etsy finds for unique science- and tech-themed cards, posters, t-shirts, jewelry, and accessories.