The Maker Mom helps parents raise awesome STEM-loving, Maker-friendly kids. These kids (and their parents) tend to like books. After all, books are the gifts that keep on giving, the friends you can visit and explore with all year round. So naturally, I'm excited to introduce you to a great collection of new books and share a few old favorites, too. Most of these books were sent to me for review, sometimes at my request, and sometimes because I'm on the publicist's mailing list. I've linked to my published reviews when appropriate. This post contains affiliate links.
Books for STEM and Maker Kids
Books for Young Inventors
These picture books hit the sweet spot for me.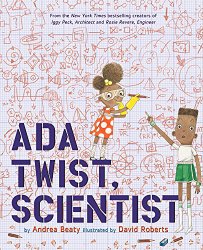 If you follow this blog, you already know that Ada Twist, Scientist is one of my favorite books of the year. Read why I think this picture book about a curious young girl is a must-buy.
Odd Boy Out: The Young Albert Einstein If you're a parent to a curious, quirky, seemingly out of control, and/or stubborn child, you may be reassured by this book about young Albert Einstein.Read my review here.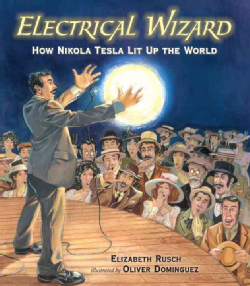 Electrical Wizard: How Nikola Tesla Lit up the World  There are loads of books on Edison, so it's about time Tesla gets his time in the spotlight. Read my review here.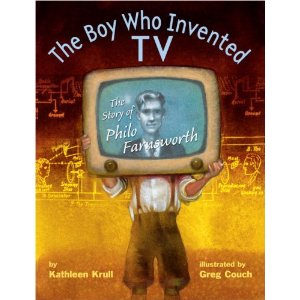 The Boy who Invented TV: The Story of Philo Farnsworth He's more than just a guy with a funny name. Read my review here.
Little Zebra is Gifted. Read my review here. (It's at the very bottom of a long, informative post on young children and gifted education.)
Books for Maker Kids and Parents
Remember that book of simple electronics projects that was almost the first book I authored? Well, when Make: Tech DIY- Easy Electronics Projects for Parents and Kids arrived unexpectedly on my doorstep, I thought, "Dang, this is the book I wanted to write!" Only, I quickly realized that this book went a little deeper into the technical explanations. Okay, so maybe it's better than my book would have been. The girl on the cover (hooray!) isn't the only thing that makes this book girl-friendly. It's also full of textile-based sewable circuit projects like: My Happy House, Purring Elephant Pillow and The Moonlit Flower (not that boys can't handle a needle and thread).
A few weeks after Tech DIY arrived yet another book showed up on my front stoop, Make: Make it Glow: LED Projects for the Whole Family. And then I freaked out because this one was soooo verrrrry similar to what I had been working on. So of course I think it's pretty great. True to its name, this book is fun for families, though bigger kids will feel comfortable at least some of the projects  independently. The book covers very basic electronics (more basic than Tech DIY). Project are listed with a skill level of 1 (beginner), 2 (intermediate), or 3 (advanced). Projects start with things that involve basic battery + LED circuits, paper circuits and move up "jazzy jewelry" that requires soldering. Honestly, this isn't the exact book I was trying to write, so maybe I will find a publisher after all.
Continuing on the electronic theme, Electronics for Kids: Play with Simple Circuits and Experiment with Electricity is best suited for experienced beginners, or kids who want to really dive into the topic. This is the book through which kids (and parents) go beyond circuit basics to learn about things like capacitors, transistors, resistors, breadboards and relay switches to make projects like a touch sensor LED circuit, and electric motor and an electromagnet. At nearly 300 pages, it's about twice as long as the previous books.
A note about MAKE books. The publishing house has taken things up a notch with a move to glossy paper and sharper photographs than than in earlier books. And, in Make it Glow they've gone up yet another step: a spiral spine that allows your book to stay open so that you can easily glance at the instructions as you make.
Arduino Project Handbook: 25 Projects to Get You Started contains 25 step-by-step project with full-color images, circuit diagrams and code for games like a Simon-like memory game, a laser tripwire and a music makers. Note that many projects require sensors and other pieces that you will need to purchase.
By contrast, my friend Kathy Ceceri's new Make book, Edible Inventions: Cookin
g Hacks and Yummy Recipes You Can Build, Mix, Bake and Grow, contains using items you might already have on hand or can pick up easily at a nearby grocery store. The book is a fun twist on a typical cookbook (think DIY marshmallows, a LEGO 3D food printer, and a solar oven with recipes for cooking in it. It's great way to get reluctant kids to don and apron and whip up an edible treat. Stay tuned; Kathy has yet another Make book in development. Read my reviews of her earlier books, Paper Inventions, Making Simple Robots and Robotics.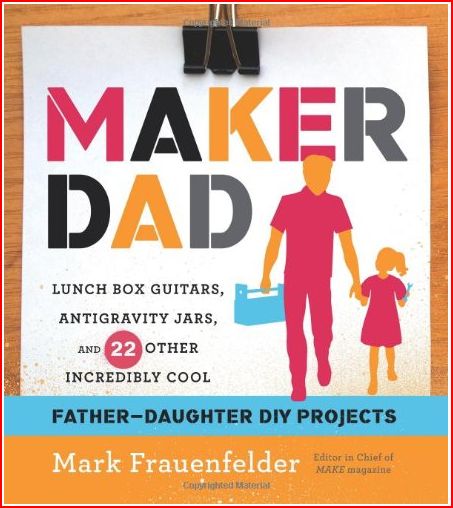 Maker Dad an interesting collection of activities for parent and child. Review here.
See also: Making Makers below in the Parents section.
LEGO Animation Book: Make Your Own LEGO Movies! I met co-author,
Chicagoan David Pickett last summer when he popped in for a day of co-working at the hardware development space where I worked. Everything is awesome with this book that teaches basic animation principles, acting methods for minifigures and tips for creating sets and special effects.
Dewey Mac Maker Mysteries: Dog Gone Dog by Michael Carroll. This lively story for the 8-12 year old set introduces the "spyentific method" as the protagonists work to solve a local mystery. It's actually two books in one: there's a 90-page Detective Manual following the story. The manual contains directions for more than a dozen spy-themed activities and projects to keep your curious little maker busy. (If you like the read-and-make concept, also check out the Nick and Tesla books.)
Books for Science and Nature Kids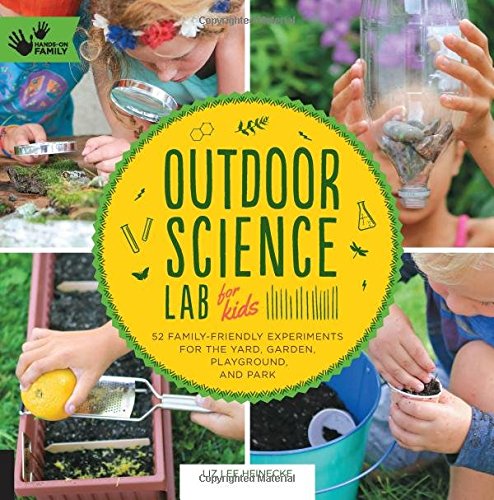 Outdoor Science Lab, reviewed here, is wonderful companion to the equally engaging Kitchen Science Lab for Kids, which was reviewed here.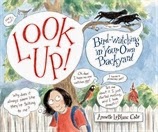 Look Up! Bird Watching in Your Own Backyard was reviewed here. This book makes a great gift on its own or along with a small sketchpad, binoculars and colored pencils and, if you have the budget, a small gear bag.
Books that Help Us Understand Our World
Super Cool Tech helps readers understand new technology inside and out.  Read my review here.
If you enjoy reading about complex things in simple terms, check out Randall Munroe's new book, Thing Explainer. Munroe, author and illustrator behind the popular online comic xkcd, produced a book of "detailed diagrams of interesting objects, along with explanations of what all the parts are and how they work." Here's the clincher: he describes them using only the 1,000 most common words in English.
Books For Parents
Screen
wise: Helping Kids Survive and Thrive in  Digital Age by Devorah Heitner, another Chicagoan and friend, reads like  breath of fresh air. Rather than harp on the the bad guys of the internet, Screenwise takes a thoughtful, empathic approach modeling appropriate use of technology. One of the key takeways for parents and teachers is to mentor more than you monitor.
Making Makers: Kids, Tools, and the Future of Innovation. Inspiring! Read my review here.