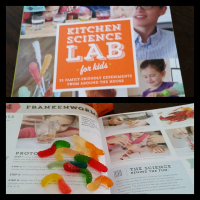 Just when you thought your holiday STEM gift shopping was done, well, it's not. Today and tomorrow I'm featuring two of my favorite new books for STEM and Maker-loving families. First up, Liz Heinecke's Kitchen Science Lab for Kids.
With 52 family-friendly experiments, this book makes it easy to commit to a year of science. What a great theme for 2015!
Kitchen Science Fun
Kitchen Science Lab for Kids is divided into 12 themed sections including Crystal Creations, Acids and Bases, Physics in Motion, Bodacious Botany, and Rocket Science. Each section features a handful of experiments.
Each experiment is set up like a recipe detailing materials, safety tips, protocol (instructions), an explanation of the science at play, and opportunities for enrichment or further exploration.
The book features a multi-cultural cast of kids ranging in age from preschoolers to young teens stressing that science is for everyone. Tweens and teens can tackle many, if not all, of these experiments on their own. The younger set will benefit from a bit of guidance, but can still be hands-on enough to feel like real scientists.
As someone who's familiar with a lot of science books for kids, I was excited to see some new-to-me experiments included in this book. I even tried one while my boys were at school–Frankenworms. The experiment is part of the section on Carbonated Chemical Reactions and presents a brilliant twist on the old baking soda and vinegar combo as you can see in the video below. (Bonus: a chance to buy gummy worms in the name of science!)
Liz's book makes a great gift for families with kids ages 5-10. It's especially great for those who are looking for engaging alternatives to plunking down in front of a screen in the name of family fun.
Please note that I was sent a review copy of Kitchen Science Lab for Kids, but all opinions are my own. The book retails for $24.99, but looks less expensive on Amazon as of posting time. This post contains affiliate links.