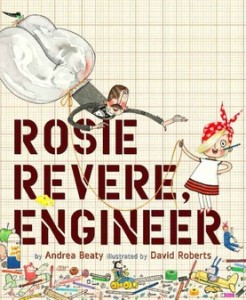 I caught wind of this new book, Rosie Revere, Engineer
 (affiliate link), at the ALA Conference. Sensing I was on to the next big thing for aspiring STEM Girls, I asked author Andrea Beaty for a review copy and was delighted when it arrived shortly thereafter.
Rosie Revere, Engineer
Illustrated by David Roberts, the book launched in September 2013. If you're the kind to start your holiday gift shopping early, put this delightful picture book on your list for your young daughter or niece.
Rosie is a shy girl whose attic is similar to my basement. Which is to say that she collects odds and ends, finding treasure in other people's trash and bringing it to her special private workshop space. That said, she is a bit more inventive than I am, creating clever gizmos like the helium pants demonstrated on the book's cover.
However, after her Uncle Fred, a zookeeper laughs one of her unusual creations, she stops inventing.
It's only until another relative, her great-great-aunt Rose, a former airplane assembler who resembles an aged Rosie the Riveter, tells young Rosie that she wishes she could fly that the wheels in Rosie's mind start turning again.
The challenge of fulfilling her old aunt's dream reignites Rosie's passion. Rosie's invents a flying machine that doesn't work quite as planned and leads to another round of elderly laughter. But this time the laughter comes with encouragement and a life lesson, "The only true failure can come if you quit."
That lesson applies equally to boys and girls. Indeed, this is a fine book for all children age 4-9. However, I know how hard it can be for girls to find STEM role models or see themselves in STEM books so if you know an inventive young girl get her a copy of this book. I hope libraries will acquire it as well.