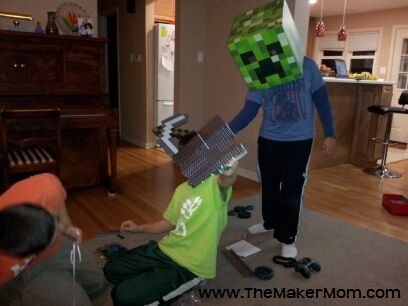 As of last Friday I was convinced our team's cortex, the part that controls the robot's actions, was a dud. I spent more than an hour on the phone with Vex tech support downloading and compiling, rebooting and reconfiguring only to have the patient tech suggest I send him the unit for further examination.
Only this process would take about a week and we only have a couple of weeks until our competition.
(commence nail biting)
I should have express shipped the cortex to him last Friday, but instead ran off to Milwaukee with The Maker Tween (more about our fun day later).
Of course I was fretting over my delay in shipping out the cortex, thinking now I'd have to spend more money and overnight it to Vex HQ, but fate intervened.
(cue chorus of heavenly angels)
Our Canadian cousin and her husband paid us a visit. Because my housekeeping skills are minimal, the robot was pushed off to the side of our living room and her dear husband spotted it at which point I told him my tale of woe.
He offered to try to get things going again, so I booted up the computer and made the necessary connections. After hovering over his shoulder saying, "I tried that. Yep, I tried that, too." I finally walked away.
When I came back our robot was fixed!
Back in business, the boys met for practice that evening, at which point I snapped the shot above. It reveals a lot about our small team. The boys are having fun…and they're not always terribly focused. And yet, they are. They're already disassembling the Clawbot and eagerly working on Robot 2.0.
I think we're going to skip the autonomous programming portion this time around because I'm afraid of wiping out the cortex again and therefore missing out of the rest of the competition.
We discussed some of the Design Challenges related to, but separate from, the robotics competition and the boys seemed eager to tackle a couple of those. In addition, they're making plans to show the robot to their school's Project Lead the Way classes for 7th and 8th graders.
My hope is that our team is like a pebble tossed in the water creating far-reaching ripples. Looks like we're on our way.